BUSINESS INTELLIGENCE FREQUENTLY ASKED QUESTIONS
Q 1. My organization already has databases and data warehouses. Why would we need a separate Business Intelligence system?
A 1.Unlike database and data warehouses, BI is an enterprise-wide evolving environment. This means you will continually improve and enhance your BI system, based on feedback you receive from your business community. By contrast, databases and data-warehouses are developed for only one set of knowledge workers from one line of business, and they do not change much once they are implemented. Also, BI projects involve cross-organizational activities because they sustain an enterprise-wide decision-support environment.
Back to top
Q 2.Why does my organization need a methodology to develop and implement a BI system? Why can't we just assemble a team and start working?
A 2.It has been said that that while a paper airplane can be constructed with little forethought, a jet airplane cannot. Similarly, a standalone system (stovepipe), with only a handful of knowledge workers using it, can get by without a set of carefully planned and executed project activities. But due to its cross-organizational nature, a BI initiative requires formalized guidelines.
As the BI decision support environment evolves over time, it is imperative that a strong foundation exists, which will support such expansion. Many things have to be considered, and many tasks have to be performed by many people. To casually make up who does what and when along the way is irresponsible. That type of ad hoc development approach would put the organization's large investment at risk, and would pose an even bigger risk for losing business opportunities. Instead, what's needed is an agile and adaptive development guide that is specifically geared toward BI decision-support applications.
Back to top
Q 3.Isn't BI just a repackaging of old decision-support and management-reporting concepts that have been around for years? Isn't it mostly just about measuring business performance?
A 3.I think the cynicism is somewhat justified. But I think because of the "computer savvy" of the knowledge workers today, it will be difficult to just "repackage old stuff", rename it and sell it. Business Intelligence (BI) is much more than "old decision support and management reporting concepts".
I would define BI as business success realized through rapid and easy access to actionable information through timely and accurate insight into business conditions about customers, finances, and market conditions. approaches are different. And as such they need to be treated differently.
Let us consider how to make "Good and Quick" decisions by using the BI technology.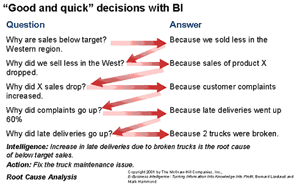 Back to top
Q 4.Where does BI "start"? Does the demand for BI come from the functional departments - the marketing, financial, and manufacturing folks? Or is there a push coming from IT?
A 4.BI usually starts from the requests of the functional departments. Marketing, Sales, Financial, Manufacturing knowledge workers like to have "actionable information" in timely fashion. The requirements are usually not created by the IT departments.
Back to top
Q 5.What are the big issues, or the critical success factors, in BI projects? Where do they most commonly break down?
A 5.BI projects are quite complex. If an organization has not nurtured cross-organizational culture, it is very difficult to implement a successful BI project. Many organizations are already well equipped to implement successful business intelligence (BI) applications. However, during my consulting and teaching engagements, I have encountered many ill-equipped organizations as well. I have observed some common factors among them, which we have addressed in our book:
Lack of understanding of the complexity of BI projects.



Lack of recognizing BI projects as cross-organizational business initiatives and not understanding that cross-organizational initiatives are different from stand-alone solutions.



Unavailable or unwilling business representatives.



Unengaged business sponsors or business sponsors who have little or no authority due to their low-level positions within the organization.



Lack of skilled and available staff as well as suboptimum staff utilization.



Inappropriate project team structure and dynamics.



No software release concept (no iterative development method)



No work breakdown structure (no methodology)



Ineffective project management (only project administration)



No business analysis and no standardization activities.



No appreciation of the impact of dirty data on business profitability.



No understanding of the necessity for and the usage of meta data.



Too much reliance on disparate methods and tools (the "silver bullet" syndrome)
Back to top
Q 6.Conversely then, where do they most often pay off? Are there areas that most often seem to produce reliable payback (in whatever terms you choose to measure them, like direct financial ROI, or executive satisfaction)?
A 6.BI seems to pay off handsomely if the following facets are implemented successfully: For getting Increased Business Agility:
Real-time transactional feedback



Accurate prediction mechanisms



Quick implementation of new business initiatives
For Lowering Operating costs:
Reduced time required to collect business information



Enabling employees at all levels to access appropriate data with little IT support
For Streamlining Customer Acquisitions:
Effective, focused marketing campaigns



Reduced per-customer costs of marketing and advertising
For Increasing Customer Loyalty:
Clear picture of customer needs



Targeted products, features and services



One-on-one marketing
Back to top
Q 7.Are you seeing much custom application development, or is it all off-the-shelf software now? What about packaged software - the big ERP and CRM systems? Do they have the BI capabilities that most customers want?
A 7.Most of the organizations try to use "off-the-shelf" software as much as they can. And if off-the-shelf software doesn't provide what they need, they try to "customize".
Big ERP systems such as i2, J.D. Edwards, Lawson, Oracle, PeopleSoft and SAP, just to name a few, as well as the CRM systems such as Siebel, PeopleSoft, SAP, E.phifany/Octane, NCR, Xchange, just to name a few, have a number of BI capabilities as required by the knowledge workers.
Back to top
Q 8.What sort of questions are "data people" asking you during your talks? What are the specific interests of the data managers?
A 8."Data people" as you named it are asking the following questions:
How does one get sponsors at high places? This question is not a question just pertaining only to the BI systems. This has been a problem as far as I can remember. One of the main aspects IT staff have to learn is to understand "Politics" in the organization and find the most influential parties to get involved in the projects. I am working on some columns to publish about "Politics and IT"


How to prove ROI, before the BI applications are implemented? Once again, this is not a difficult question to answer only for the BI applications. But it is a difficult question to answer for almost any application.

Some applications provide ROI immediately. Applications such as "Fraud Detection" for telephone companies and for credit card businesses is one example. Finding reasons for attrition of customers and avoiding that from happening is another area, which pays off handsomely. Also keeping inventory at a low level so that not much capital is "locked up "in the inventory" pays off. It is difficult to prove ROI for "faster, better "decisions. There has to be a specific tangible result to estimate ROI before implementing a BI application.


How to integrate our existing legacy systems? We have no documentation, we don't know how many places same data is stored, how consistent it is etc. Once again, this is not only a BI specific question. For integrating the legacy systems some off-the-shelf interfaces are used. In some instances extracts are taken and stored in relational systems. Interfaces such as ODBC,JDBC are used. Sometimes customized applications need to be developed.


How to develop and implement "Balanced Score Cards"? Now this addresses the BI area. Here is a slide depicting the Balanced Score Card and provides a reference of a textbook to look into for this topical area. My co-author and I have put together a list of "Things to Consider" as a preamble to each chapter of our book. (Reference: "Business Intelligence Roadmap: The Complete Project Lifecycle for Decision-Support Applications " by Larissa T. Moss and Shaku Atre Published by Addison Wesley in 2003 )This list is assembled from our consulting and teaching assignments with questions posed by our customers. Here is an example of a balanced scorecard: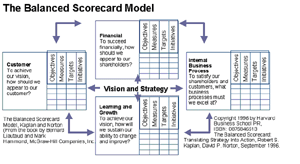 Back to top
Q 9.Are data managers sufficiently involved in the design and delivery of BI systems? And if not, how can or should they get closer to the action?
A 9.Data managers are somewhat involved in the design and delivery of BI systems. There is still a "chasm" between the data managers/IT and the Marketing, Sales, Financial, Manufacturing departments - so called Knowledge Workers of an organization. But I see that the "chasm" is closing in because the knowledge workers are getting more and more computer savvy. But the data managers still have to learn more about the business, how business works the way it does, what are the processes, how could BI systems assist with "actionable information"
Back to top
Q 10.Can business intelligence be related to knowledge management? What's the difference, what's the relationship between the two?
A 10.Knowledge Management is a subset of Business Intelligence. By managing the knowledge, retrieving it at the appropriate time, from the appropriate resources one can develop better Business Intelligence.
Back to top
Q 11.It seems that business intelligence should be a growth area for IT right now, given that it leverages existing IT assets- namely the information that resides in corporate databases - at relatively low marginal cost. Is this a reasonable analysis, and is it in fact what's happening out there in IT shops?
A 11.Business Intelligence should leverage existing information that resides in corporate databases. IT shops are paying attention to BI more carefully than they did a few years ago. This could be IT's big chance to have teamwork with the knowledge workers as well as the "top brass" of the organizations. And by doing a good job "shine" and get noticed by the "top brass".
Back to top
Q 12.What about the BI vendors though. Most of them seem to be suffering badly at present. What's your explanation for that?
A 12.BI vendors were suffering financially during the last couple of years like everybody else. I think we badly needed, in Wall Street's words, a "correction". And I think the ones that have survived the heavy storms are doing pretty well. As indicated in the early part of this discussion BI is a differentiator for the Corporate America and more and more organizations are paying attention to BI and as a result licensing the BI software. This of course is helping the BI vendors.
Back to top
Q 13.What do you predict are the major trends for the future? Where does BI head next?
A 13.The management of unstructured data is recognized as one of the major unsolved problems in the Information Technology (IT) industry. And BI technology may expand in the area of Unstructured Data. Please refer to DM Review magazine for the February, March, April, May, and June of 2003 issues for my columns with one of my colleagues on various topics of "Unstructured Data"
Back to top