eXtreme Information Quality Management (xIQM) Services
Atre Group, Inc provides a variety of services in the Information Quality Management (IQM) arena, encompassing Business Intelligence (BI), Data Warehousing (DW), and Master Data Management (MDM). The services are classified into two types:
Standard xIQM Services – methodology and support tools with a predefined set of deliverables that we use as a baseline process and tailor to each client to fit their needs.
xIQM Support Services – a variety of services that are uniquely designed for each client to satisfy a particular business need.
The chart below identifies these services and their inter-relationships: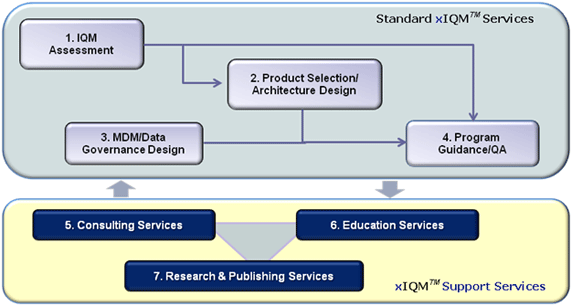 Click on a box above to get more information about each service, including business results, approach, and what Atre provides.

Atre Group also publishes series of special reports on key development topics, marketing research and vendor strategies. Atre Group, Inc provides research and consulting on a subscription basis, focused on business intelligence and application deployment topics.
Shaku Atre, the founder, has written six textbooks on database-related topics and speaks frequently at conferences around the world. She is widely quoted in the trade press and also has served as a columnist for many leading technology publications, including Information Week and Computerworld.